The Know-How-To-Earn Carefully Hand-Picked
Make Money Quote And/Or Phrase Of The Day
[There are millions of Quotes, And/Or Phrases, available online today, but there
is only one exclusively chosen and posted here daily @ Know How To Earn. So,
Tune In Each Day to get your mind-set and focused to gain money knowledge.]

[Today's Quote Or Phrase]
"NEVER SPEND YOUR MONEY, BEFORE YOU HAVE IT"
–Thomas Jefferson
Thoughtful Or Funny Variations
"Don't Count Your Chickens, Before They Hatch"
–Aesop (Aesop's Fables)
"A Bird In The Hand, Is Worth Two In The Bush"
–Author Unknown
"Never Spend Your Money, Before You Have Earned It"
–Thomas Jefferson
The Grass Is Always Greener, On The Other Side
–Author Unknown
The History Or Definition Of Today's Quote Or Phrase
People get into debt for a variety of reasons, but probably the main reason is due to spending money
before they actually have it. Even if your money from work, and/or investments, is seemingly reliable,
you should still try not to spend any of that money in advance. Why? Because, you never know what
could unexpectedly transpire to prevent, or delay, you from receiving that money this particular time.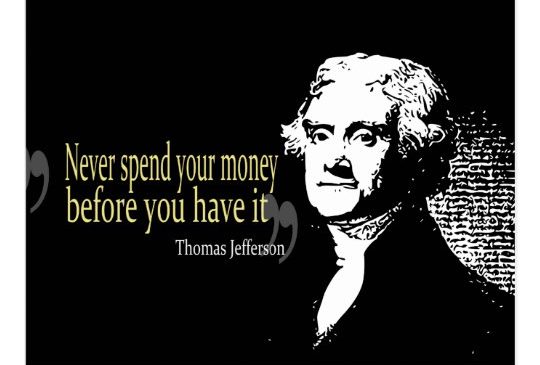 PS: In other words, it is pretty simple and straightforward…
Don't spend money until you physically (or electronically) have it in your possession!
[Please understand that a quote and/or phrase may, or may not, be posted every day.]
Note: Submit any related quote, phrase, help, or opinion, in the comment form below…