The Know-How-To-Earn Carefully Hand-Picked
Make Money Quote And/Or Phrase Of The Day
November 26, 2019
[There are millions of Quotes, And/Or Phrases, available online today, but there
is only one exclusively chosen and posted here daily @ Know How To Earn. So,
Tune In Each Day to get your mind-set and focused to gain money knowledge.]

[Today's Quote Or Phrase]
"TIME IS MONEY"
-Benjamin Franklin
Thoughtful Or Funny Variations
"Time Is Money, But Money Is Better"
"Wasted Time Means Wasted Money"
"Time Is Worth More Than Money"
"You Need Time, To Spend Money"
"Time Is Priceless, Money Is Not"
The History Or Definition Of Today's Quote Or Phrase
The saying, time is money, is intended to convey the monetary cost of laziness, by pointing out
that when one is paid for the amount of time one spends working, minimizing wasted time will
also minimize the amount of money that is lost to less frivolous pursuits. In the Western world,
the phrase, time is money, is one of the most well-known conceptual metaphors known by any
linguist, and/or cognitivist. In business, and in everyday life, time is a valuable commodity, just
like money, which we spend, save, waste, invest, gamble, trade, and sometimes borrow or lend.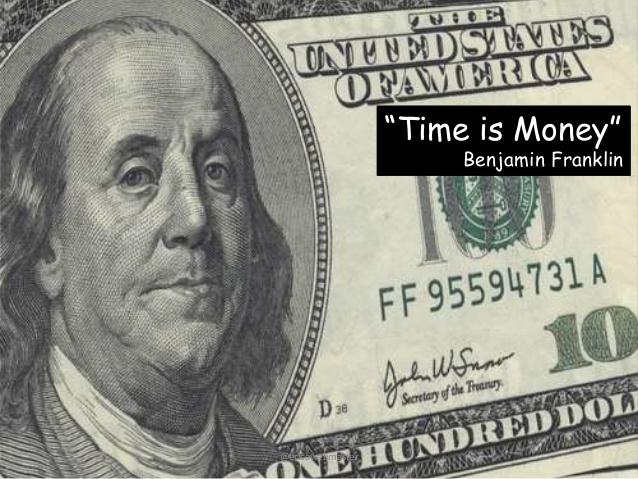 PS Time Is Money, and Money Is Time, so don't spend your time or money frivolously.
However, it is totally up to you to decide what is useful or wasteful activity in your life.
[Please understand that a quote and/or phrase may, or may not, be posted every day.]
Note: Submit any related quote, phrase, help, or opinion, in the comment form below…