The Know-How-To-Earn Carefully Hand-Picked
Make Money Quote And/Or Phrase Of The Day
December 5, 2019
[There are millions of Quotes, And/Or Phrases, available online today, but there
is only one exclusively chosen and posted here daily @ Know How To Earn. So,
Tune In Each Day to get your mind-set and focused to gain money knowledge.]

[Today's Quote Or Phrase]
"IT TAKES MONEY TO MAKE MONEY"
-Sol Luckman
Thoughtful Or Funny Variations
"You Must Spend Money, To Make Money"
-Titus Maccius Plautus
"It Does Not Take Money, To Make Money"
-Robert Kiyosaki
"It Takes Courage, To Make Money"
-Grant Cardone
"It Costs Money, To Make Money"
-Elizabeth Colegrove
The History Or Definition Of Today's Quote Or Phrase
Of course, it takes money to make money! In order to make money, you must first have some
money to invest. Starting any business requires money to buy inventory, marketing materials,
office space, equipment, advertising, etc. Any home-based business will usually require some
money for various supplies, materials, business license, promotions, etc. Even lottery players,
and casino gamblers, must have the seed money required to buy a ticket or to play the game.
Here Is The Full Sol Luckman Quote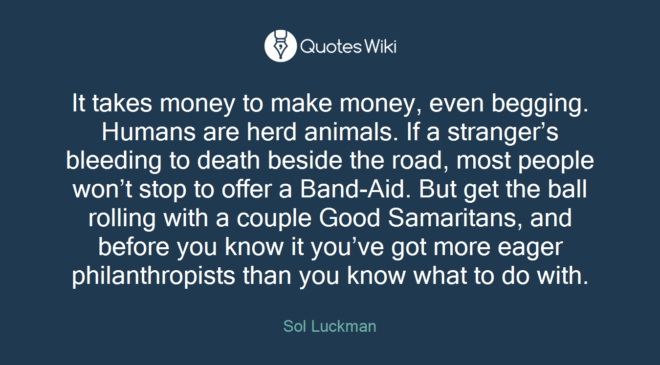 PS There are ways to make money with no starting capital, but that usually involves a barter
of some type (time for money). For example, working a regular job, you are trading your time
for money. Or, for entrepreneurs, one person has the money, the other one supplies the labor.
[Please understand that a quote and/or phrase may, or may not, be posted every day.]
Note: Submit any related quote, phrase, help, or opinion, in the comment form below…